JAVA JAZZ FESTIVAL 2009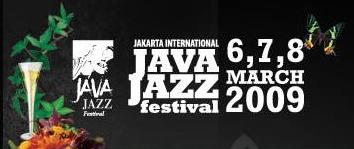 Jakarta International Java Jazz Festival diselenggarakan oleh PT Java Festival Production. Event yang diselenggarakan sejak tahun 2005 ini akan kembali digelar di Jakarta Convention Center (JCC) Jakarta. Festival akan berlangsung mulai tanggal 6 hingga 8 Maret 2009.
Artis-artis yang akan tampil pun tidak kalah dengan tahun-tahun sebelumnya, antara lain : Matt bianco, Simon Phillips, Everette Harp, Michael Paulo, Steve Oliver, Ron King Big Band, Boney James, Jason Mraz, Chielli Minucci & Special EFX, The New York Voices, Swing Out Sister, Mike Stern, Brian McKnight, Chuck Loeb, Soil & "PIMP" sessions, David Garfield, Kamal Mussalam, TOKU, Peabo Bryson, Eliane Ellias, Dianne Reeves, Ivan Lins, Ledisi, Roy Ayers, Oleta Adams, Isao Suzuki, Bobby Lyle, Dave Weckl, dan Jeff Lorber.
The New York Voices menjadi salah satu daya tarik khusus untuk saya, karena di tahun sebelumnya saya tidak berkesempatan untuk menonton The Manhattan Transfers di event yang sama. Kombinasi vokal dari empat senior ini pasti menjadi suatu suguhan yang menarik pada ajang Java jazz festival tahun ini.
Bagaimana dengan Jason Mraz? Jason Mraz sudah pasti akan mengundang animo youngsters di Indonesia. Aksi Jason Mraz akan menjadi arena special show yang paling ramai.
Adapun harga tiket berdasarkan periode adalah sebagai berikut :
Special Promo Price - 18 Desember 2008 - 6 Januari 2009
Daily Pass IDR 225.000
3 Day Pass IDR 550.000
Early Bird Price - 7 Januari 2009 - 9 Februari 2009
Daily Pass IDR 250.000
3 Day Pass IDR 600.000
Normal Price - 10 Februari - 8 Maret 2009
Daily Pass IDR 350.000
3 Day Pass IDR 850.000
Untuk pemesanan tiket dapat mengunjungi sistus resmi Java Jazz
http://www.javajazzfestival.com/2009/